All admitted candidats are required to accept the offer by prompt payment of the acceptance fee of N20, 000 (Twenty Thousand Naira) on E-Tranzact Platform at Federal Polytechnic Microfinance Bank within two weeks or have the admission forfeited.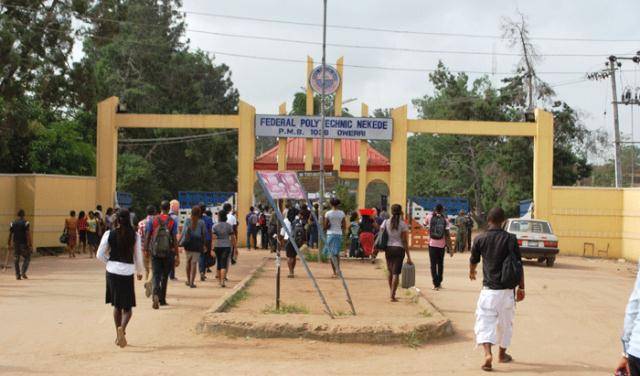 ACCEPTANCE FEE PAYMENT DEADLINE
All newly admitted students of Federal Polytechnic Nekede, Owerri, for the 2018/2019 Academic year/calendar who are yet to confirm acceptance of their admission status via payment of ACCEPTANCE FEE,  are by this notice, informed to do so on or before Monday, the 24th of September, 2018.
Failure to comply, such student(s) will have their Admission withdrawn by the School Management.
NB: For candidates that have been offered provisional admission into our (Part time) National Diploma (Evening) Programme, if you don't have JAMB Registration Number, you are are requested to pay the sum of three thousand, five hundred naira (N3,500) to Joint Admission and Matriculation Board (JAMB) without delay. Failure to do this, nullifies the admission.
REGISTRATION PROCEDURE
First Screening/Opening Of File: After the payment of your acceptance fee, the second thing you should do is to Locate your Faculty/ Department. When you Locate your faculty/department, you are expected to go with the following documents for your first screening/Opening of file.
1. Acceptance fee receipt
2. Admission Letter
3. Application Form
4. Confirmation of O' Level result,
5. O Level Results.
Importance Of The First Screening
Before any new student resumes or start lectures, the student is expected to go for his/her first screening so to
know if he/she was really admitted, to know if he/she was really admitted to study his/her applied course and
to open a file (School file).
Second Screening/Closing Of File: After your first screening and confirmation of your admission, you will be given the school file and a paper called "Authorization to pay school fees" The paper is the only thing that qualifies you to pay school fees.
After school fees payment and medicals, you will return to the screening office with the following Documents for your final screening/closing of file.
1. School fees Receipt
2. Acceptance Fee Receipt
3. Local Government Identification Letter
4. Birth Certificate
5. Medical Report
6. Application form
7. O' Level Result (Original And Photocopies)
8. SUG/ Departmental Receipt
9. Three (3) Passport Photographs
10. Admission Letter
11. Confirmation Of O' level Result
12. The School File
13. Secondary School Certificate
NOTE
Candidates with awaiting result are to go with their Statement of O' Level Result and Secondary School Certificate. After Your second Screening, You Will be given Reg Number which makes you a student of the federal polytechnic Nekede.
Registration must be completed within one month of acceptance of offer of the admission. The admission lapses upon non compliance with this time duration
Please, note that if any disparity is subsequently discovered on relevant educational qualification which you claimed, you will be required to withdraw from the Institution.